Facebook Buys WhatsApp For US$ 19B – Paying A Premium For Taking Control Over Global Messaging And Future mCommerce
It is happening like the economics books stimpulate: After a cycle of (user) hypergrowth follows a cycle of acquisitions and consolidation. With this acquisition on 19th February 2014, Mark Zuckerberg ultimately made sure about 3 things: 1) there won't be any new 'Facebook' from a competitor in the near future, 2) his empire will be a strong player in the increasingly growing global mCommerce and 3) his empire will still exist within the next 8 years. – Consider WhatsApp, a clear threat to Facebook, just needed 4.5 years to come to this point. Another 2 years and WhatsApp would have 1B users. When new technologies and platforms (mobile) evolve, things can happen disruptingly fast.
The details of the financial deal can be read in or listen to the investors' conference call with Mark Zuckerberg and Jan Koum. PDF of 5-slides investors' presentation.
To many active mobile consumers, 2 of the 3 most used apps on their smartphones are reigned by Facebook now: Instagram and WhatsApp. Competition is getting wiped out.
WhatsApp: What made this fastest user growth ever possible?
Three factors sum it up: 1) WhatsApp's mission was to replace the too high-priced and antiquated SMS service on a global scale 2) great use of mobile technology and 3) radically single-minded value proposition and execution. WhatsApp is an illustrative example of early recognition of technology opportunities on the smartphone: OTT messaging, automated address book matching and APIs like 'connect with FB friends' have propelled the network effect. Users are captivated instantly by the easy-to-use, reduced-to-the-max and flawless messenger interface with its unmatched delivery speed and reliability. No company has ever combined the advantages of technology in a faster and more efficient way (see below chart). WhatsApp currently employes 32 engineers (down from 50 engineers in August 2013) for 450 MAU, giving the company the highest ratio of monthly active users per long-term employee today of any active tech company: 14M MAU per engineer.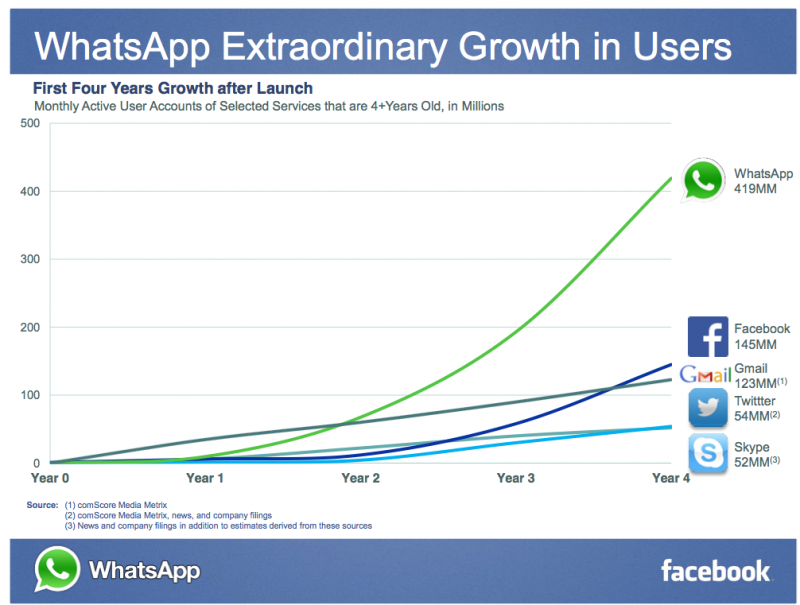 WhatsApp understood best that messaging is about 'Here I am'.
WhatsApp's controversial feature 'last seen at …', which is accurate to the second (contrary to competitiors) and can easily be switched off, is an effective communication enabler. By seeing the online information, the user immediately gets a notion about whether the messaging partner is likely to answer right away or not. This creates a feeling of mutual and permanent connectivity (which teenager fancy very much) and helps to start communication exponentially. Research proved that the online time-stamp and notifications for 'sent, delivered, read and typing' are the true delighters (Kano model) of a mobile messaging app.
Some perspectives on the US$ 19B acquisition price
Depending on which facts are taken into account, the price is reasonable or rather high. As far as Internet deals go, this acquisition is eclipsed only by Time Warner's US$124B merger with AOL in 2001. Here are four different perspectives to look at the deal:
1) Comparing the recent acquisition of Viber by Rakuten at US$ 900M for 100M MAU with Facebook buying WhatsApp at US$19B for 450M MAU, it's obvious that these are two deals of different dimensions. Rakuten probably made a very good deal on smaller scale, whereas Facebook had to pay a clear premium for global dominance in mobile messaging. But messaging is potentially the 'railways' to provide simple mobile commerce solutions in the near future. So this premium could be equalized soon by returns from high mobile commerce transaction volumes.
2) By paying US$ 19B for WhatsApp, Facebook has valued WhatsApp at 10% of its own market valuation, which does not seem to be an out-of-balance judgement at the current situation.
3) If the Rakuten/Viber deal is the benchmark and focus is price per MAU (see below), then it can be seen that Facebook paid a 4.6x higher price per MAU, which is a high difference between the two messaging app acquisitions. Comparing quality and potential of Viber and WhatsApp could suggest a 1:3 ratio. Viber is currently making loss , but it has voIP calls and could also change to a subscription model. But Viber's expectations for earnings would be lower due to the lower user base than WhatsApp. So the difference between the ratios 1:3 and 1:4.6 is 1.6, which could be regarded as premium and would reflects about 34% (1.6 as percentage of 4.6) of the total acquisition price. This approach would suggest an included premium of ~US$6B.
Acquisition partners
# of MAU and Price

Price per MAU
Operating profit 2013
Operating profit potential
Rakuten/Viber
100M MAU for US$900M
US$ 9
-US$ 29.5M
Open, due to lower user base
Facebook/WhatsApp
450M MAU for US$ 19B
US$ 42
(4.6 x higher than US$ 9)
>US$ 100M (assumed)
Could have grown to >US$ 500M per year within next 2-3years
4) WhatsApp shows some stronger metrics than Twitter which has a market capitalisation of US$ 20.3B. This comparison would justify the US$ 19B price tag of WhatsApp. Though the customer quality is rather different: In Twitter are professionals with a specific profile in specific topic categories found (optimal starting position for advertisement) whereas WhatsApp has just 'users' with a country allocation, but: with a mobile number, which is undoubtedly one of the most precious assets a company can have from a user. So the step from user to consumer will be small and easy for WhatsApp and Facebook. Together they can start to generate a holistic user profile combining online and mobile behaviour. In terms of combination of online and mobile, Google lags behind the two new partners.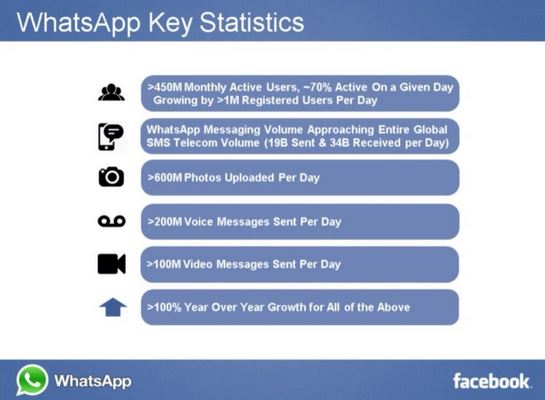 What's the strategy? – mCommerce!
While a Facebook statement quotes that acquisition supports Facebook and WhatsApp's shared mission to bring more connectivity and utility by delivering core internet services efficiently and affordably, it is evident that Facebook's mobile strategy has just become stronger. The mCommerce potential of the biggest mobile messaging apps is huge. Asian examples like WeChat and Line generate amazing mCommerce figures and prove that mobile messaging apps can become no.1 platforms for customer care and CRM measures. Furthermore, Alipay just outpaced Paypal and Square in mobile commerce transaction volume; mCommerce is a multi billion dollar business. With this acquisition Mark Zuckerberg secured one of the highest shares in global mCommerce for the next 8 years. But both, Zuckerberg and Koum, emphasize that they will not change the current 'non-commercial' strategy of WhatsApp. Let us add: For now.
Will users abandon WhatsApp en masse now?
WhatsApp has always emphasized that they just want to be a top-of-class messenger protecting users' privacy ('no ads, no games, no gimmicks', see below the note from Brian Acton, which Jan Koum kept as key strategy paper). It is strongly doubtable that this promise can be kept with Facebook and its big data spying machine on board. Now Facebook gets access to 450M additional mobile numbers and address books. But Zuckerberg is well advised to move very smoothly with his new possession. It will be interesting to follow the further growth of WhatsApp in emerging markets like India or South East Asia – against the strong Asian competitors.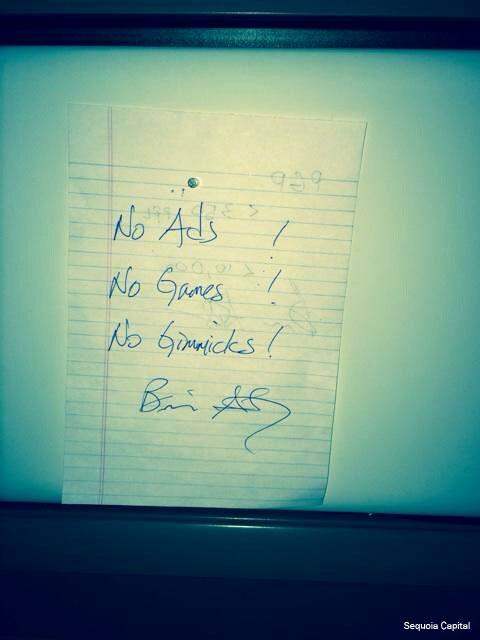 Watch Brian Acton doing his first public speaking at StartX on 4th June 2014.
Read below blog post to get a more detailed understanding of the current consumer messaging behaviour and its global potential.
More: Please participate in this international MBA thesis survey: 'What would be the ideal messenger for you?'. The findings (activitiy and preference ranking) will be shared with respondents.