What is Mobile Disruption
"Mobile Web adoption is growing eight times faster than the first wave of PC Internet adoption. There may be some limits, but we're not anywhere near them."
Eric Schmidt, Google (Reuters, March 2010)

"We are in the middle of the smartphone revolution, and it is just beginning."
Jan Koum (b. 1977) and Brian Acton (b. 1973), founders of Whatsapp (Source: MercuryNews.com, April 2013)


"We want WhatsApp to be the product that keeps you awake… and that you reach for in the morning."
Jan Koum on 18th June 2013 in WhatsApp Blog
Looking at all disruptive technologies coming our way, mobile internet or mobile technology solutions are by far the one with the biggest economical impact (McKinsey Report, Disruptive Technologies, p.12, May 2013)
In conclusion, the author's opinion is that companies can't just have a department that helps desktop products turn into mobile products. Rather, there must be a department that needs to focus entirely on building for mobile from scratch. Exactly this, sees the author too less in big companies where the investment for such activities would be available. Much more visible is that mobile solutions are created by small start-up companies which are, presumably, soon to be bought by big companies (start of this acquisition hype would be Google to buy Whatsapp)
The most crucial role for mobile disruption played Apple with its invention of the App Store in July 2008 (then with 500 Apps). Apple can be seen as pathfinder for mobile disruption. Apple's intervals of innovation and game-changing products (like the Macintosh in 1984, the iPod in 2001, the iPhone in 2007, and the iPad in 2010) would suggest that we will see an Apple innovation soon again. There is a high probability that it will be the iWatch or a new version of AppleTV.

The smartphone revolution
According to Ericsson, mobile phone subscribers are predicted to surpass the world population by the end of 2013; the total number of mobile subscriptions will reach about 7.5bn by the end of 2013.
List of mobile technology solutions that lead to industry disruption:
Angrybird.com
Hailocab.com
Hailo is officially legal in New York since 6th June 2013.
Whatsapp.com
WhatsApp leading online messaging race? Source: Stuff.co.nz, May 2013
CEO Koum, at a New York conference in April 2013, said the service has surpassed 200 million daily users who together send more than 20 billion messages a day.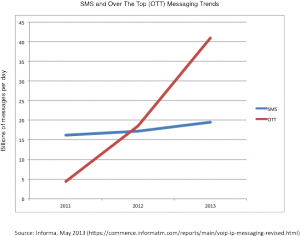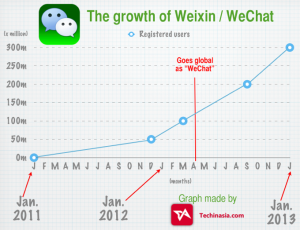 (Source: Techinasia, May 2013)
Snapchat
Snapchat's huge momentum in uploading and sharing photos in January to May 2013 (Source: KPCB, May 2013)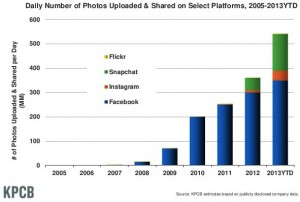 This an open list, please feel free to comment with new examples.
Video: Malcom Gladwell on disruptive and transformative innovators:
'They are creative, conscientious, and disagreeable. They do not seek the approval of their peers. You can't do something that's transformative and disruptive if your primary interest is winning the approval of your peers. The sources of their success doesn't from advantage, but from adversity, disadvantage.'